With the massive file sizes of photos, videos, games, and more today, having enough storage space is more important than ever. External hard drives provide a simple way to expand the storage capacity of your computer or console. A 1TB (terabyte) external drive can hold thousands of photos, hundreds of movies, and plenty of other files.
With so many external drives on the market from brands like Samsung, Western Digital, SanDisk, and more, it can be tough to decide which 1TB drive is right for you.
What is an External Hard Drive?
An external hard drive is a portable storage device that can be attached to a computer or other device using a USB cable or other connection. Unlike an internal hard drive which is installed inside a computer, an external hard drive sits outside the computer. This portability allows you to take your drive with you anywhere.
External hard drives come in two main types – HDDs (hard disk drives) and SSDs (solid state drives). HDDs use spinning magnetic disks to store data. They have larger capacities and are cheaper, but are bulkier, slower, and more prone to damage from drops or shocks. SSDs use flash memory chips and have much faster data transfer speeds, smaller sizes, and greater durability. The old HDDs are slowly being replaced with SSDs, we recommend you purchase a SSD drive.
With large capacities like 1TB, external drives are extremely useful for storing or backing up substantial amounts of data. Photos, videos, music, documents, programs, games, and more can quickly add up to hundreds of gigabytes or even a terabyte or more. An external drive gives you the flexibility to store that data and transfer it between devices like desktop PCs, laptops, game consoles, media centers, and more.
External hard drives use can use many different connections, make sure you check which one is compatible with your device. USB (3.0/3.1/3.2/C) is by far the most common interface and works with almost any computer. With USB 3.0 and newer versions, data transfer speeds can rival internal drives. All external hard drives are plug-and-play, showing up as an accessible drive with drag-and-drop file capabilities.
How Much Can You Store on a 1TB Hard Drive?
With 1TB or terabyte drives now commonplace, how much can you actually store on the seemingly massive 1TB space? Depending on the types of files, a 1TB external hard drive can hold:
– Up to 500,000 photos taken with a 12MP camera
– Around 250,000 songs in MP3 format (at 4MB per song)
– Over 230 hours of 1080p high definition video
– About 20 Blu-ray movies (at 25GB per movie)
– Up to 500 GB (half a terabyte) worth of documents, spreadsheets, presentations, etc.
– Between 150 and 300 entire video games, depending on file sizes
– Hundreds of apps, software programs, and program installation files
– 50 or more PS5/Xbox Series X games at roughly 15 to 30GB each
In other words, unless you are a serious power user, there's a good chance you won't fill up an entire 1TB drive with mixed everyday files including documents, photos, videos, music, programs, and media.
What should you consider when buying a portable external hard drive?
Here are some key things to consider when buying a portable external hard drive:
Storage Capacity – Determine how much storage space you need. Are you looking for a drive to back up your computer or store large media files? Choose a drive with sufficient capacity, often 1TB or larger.
Drive Type – Do you want an HDD (hard disk drive) or SSD (solid state drive)? HDDs are more affordable per TB and offer larger capacities. SSDs are much faster, more durable, and run silently but are pricier. For portability we recommend SSD.
Transfer Speed – Faster USB connections like USB 3.2 Gen 2 and USB-C allow for quicker data transfer. Some external SSDs reach speeds over 1GB per second. If you regularly move large files, opt for a faster drive.
Portability – Consider the physical size and weight of the drive if you plan to transport it. Some thinner portable drives are about the size of a smartphone. Durability features like drop protection also help while traveling.
Backup Software – Many drives come with free backup software for easily scheduling regular file backups. This provides an extra layer of protection against data loss.
Security – Password protection and hardware encryption help secure your data. This is especially important for sensitive files. Some drives have advanced security features like fingerprint access.
Compatibility – Make sure the drive will work with your operating system and devices. Most are compatible across Windows, Mac, Android, gaming consoles, and more.
Warranty – Storage devices can fail. A three to five year limited warranty is common and provides peace of mind. Cheaper one year warranties may be risky.
Price – External hard drives range in cost from $50 to $500 based on factors like capacity, speed, and durability. Know your budget and choose a drive that fits your needs at a reasonable price.
The 5 Best 1TB External Hard Drives in 2023
1. Samsung T7 1TB Portable SSD
The Samsung T7 is a top-tier portable SSD with blazing fast transfer speeds up to 1,050MB/s read and 1,000MB/s write. That's nearly 10X faster than a typical hard disk drive. With no moving parts, the durable aluminum SSD can withstand drops of up to 6 feet.
Weighing in at just 2 ounces, the compact T7 fits easily into a pocket. It works across Windows, Mac, Android devices, gaming consoles, and more with a reversible USB-C connector. Password protection and AES 256-bit hardware encryption keep your files secure.
The T7 hits the sweet spot of speed, security, portability, and 1TB capacity. It provides lightning quick access to your photos, videos, documents, and everything else. For one of the fastest external SSDs available, the T7 is a superb choice but carries a higher price tag than HDDs.
View on Amazon UK or Amazon US.
2. SanDisk Extreme Portable 1TB SSD
The rugged SanDisk Extreme Portable SSD is purpose-built for transport with a durable silicon shell and up to 2-meter drop protection. It has an IP55 rating meaning it's resistant to dust, dirt, sand, and water splashes. Read speeds up to 1050MB/s allow for incredibly quick file transfers.
This compact 1TB SSD has a carabiner loop so you can securely attach it wherever needed. The SanDisk drive works with USB 3.2 Gen 2 and USB-C connectivity. Save time moving files while keeping data protected from drops, shakes, vibration, extremes of temperature, and more.
While costing less than the Samsung T7, the Extreme Portable matches it for real-world transfer speeds. Overall, it hits a sweet spot between durability, portability, speed, and value.
View on Amazon UK or Amazon US.
3. WD My Passport 1TB HDD
The matte-black My Passport HDD from Western Digital packs a roomy 1TB capacity into a 0.5-inch thick form factor about the size of a smartphone. The refined metal cover provides classy looks and some protection.
Though not as fast as SSDs, the My Passport has zippy HDD performance up to 1050MB/s read and write speeds over the USB 3.2 Gen 1 interface. WD includes helpful backup software to schedule regular file backups. A 3-year limited warranty provides peace of mind for the value-focused My Passport.
If your priority is getting abundant storage for the money from a reputable brand, the My Passport is a compelling choice. Large games and media collections can slow down lesser HDDs, but the WD drive has the speed to keep up.
View on Amazon UK or Amazon US.
4. Crucial X8 1TB Portable SSD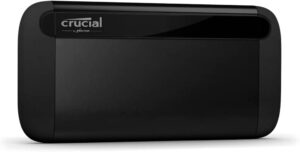 The Crucial X8 portable SSD leverages innovative stacked architecture to cram 1TB into a tiny footprint roughly the length and width of a credit card, and only 5mm thick. Silicon Motion controller technology enables fast data transfers up to 1050MB/s.
This lightweight SSD works across operating systems and devices, plugging into USB-C or USB-A ports with the included cables. While not as ruggedized as some alternatives, the anodized aluminum unibody core provides protection from drops up to 7.5 feet. Integrated AES 256-bit XTS hardware encryption keeps files secure.
For one of the most compact 1TB portable SSDs available with fast speeds over 10X those of hard drives, the Crucial X8 is a top performer. The advanced NVMe technology in a form factor small enough for any pocket makes this SSD a standout.
View on Amazon UK or Amazon US.
5. Toshiba Canvio Advance 1TB HDD
If your top requirement is getting a lot of terabytes for the money, the Canvio Advance portable hard drive from Toshiba is a great value choice. The 1TB model costs significantly less than SSD rivals while still providing ample space for most users.
Toshiba built this 2.5-inch hard drive with a slim and light yet sturdy case. The Canvio Advance can even survive accidental drops from heights of up to 1.5 meters. It uses a high-speed USB 3.2 Gen 1 interface and includes software for one-touch backups.
While not as blazing fast as an SSD, the Canvio Advance still reaches decent HDD speeds up to 145MB/s. If your primary needs are reliability, affordability, and reasonably quick access to high-capacity storage, the Canvio Advance 1TB hard drive excels.
View on Amazon UK or Amazon US.
While picking the right 1TB external drive involves weighing factors like speed, physical size, protection, and price, any of these five options can serve you well. The Samsung T7, SanDisk Extreme, and Crucial X8 SSDs provide the fastest speeds for working with large files, but for a higher cost. The WD My Passport and Toshiba Canvio Advance offer more storage for the money with access speeds sufficient for many users.
For a portable SSD that can rapidly transfer data at nearly 10X hard drive speeds, the Samsung T7 is hard to beat with its blend of performance, reliability, encryption, and travel-friendly size. Power users who want the most storage capacity for the lowest cost can't go wrong with the Canvio Advance HDD. And the SanDisk Extreme SSD ensures your files stay safe from the elements. Choose the 1TB external hard drive that best fits your specific needs and budget.